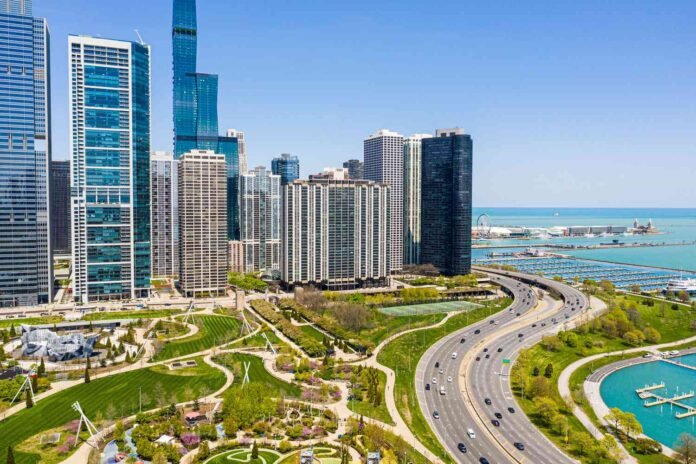 We're guzzling craft beer in a Chicago sports bar with a rooftop overlooking Wrigley Field when we hear about 'The Curse of the Billy Goat'.
Urban legend has it that tavern owner William "Billy Goat" Sianis, so-named for the bearded kid he brought everywhere, was denied entry to a Chicago Cubs baseball game during the 1945 World Series because of the animal. Its stench rather than its species appeared to be the problem (the goat did have its own ticket).
Enraged, Sianis declared the Cubs would lose not just that World Series but every one they took part in from then on. When the Cubs lost the game, and therefore the series, his prophecy appeared to have come true and The Curse of the Billy Goat was born. It stuck around a long time too – the Cubs didn't win a World Series until 2016.
Visiting Murphy's Bleachers in the leafy neighbourhood of Wrigleyville ahead of a Cubs game this autumn, belief in the team seems to have been well and truly restored. On an early weekday afternoon, the bar is packed with jovial fans wearing its blue and white jersey as they dig into the Chicago-style hot dogs that are essential eating on game days.
The Billy Goat story seems fitting for a city which defied the odds to make an extraordinary comeback. On a river cruise showcasing its world-famous architecture, our guide tells us she likes to think Chicago's 'Second City' moniker reflects, not its rivalry with New York, as many think, but rather its remarkable resurrection in the wake of the Great Chicago Fire.
Started in a barn in 1871, the inferno raged for more than 24 hours, killing 300 people, leaving a third of the population homeless, and levelling three square miles of the city. The subsequent "Great Rebuilding", which prompted architects including Frank Lloyd Wright to flock to the city, saw Chicago rise like the proverbial phoenix from the ashes.
These days, statement skyscrapers made with fireproof brick, stone, limestone, steel, glass and marble reach for the stars from the horizontal prairie, and tall, slender greystones – Chicago's answer to New York's brownstones – behind wrought iron railings make affluent inner-city neighbourhoods feel like film sets.
Now the third-largest city in the States, Chicago is often described as the most American of American cities, and was recently voted the best large city in the US by Conde Nast Traveler readers.
Our group of Antipodeans certainly gets a generous slice of Americana in our five days in town: we cheer on the Cubs at a baseball game, bop along at a late-night blues club, admire works by Andy Warhol and Edward Hopper at the Art Institute, eat breakfast with a view of three states atop the Willis Tower, and tuck into Southern-style fried chicken at Navy Pier restaurant Reunion, where chef Art Smithregales us with tales of cooking for Oprah Winfrey, Prince Harry and the Dalai Llama (apparently he made the latter vegan fried "chicken").
We visit Murphy's Bleachers on a four-hour tour with Bobby's Bike Hike, our comedian guide acquainting us with Chicagoans' favourite foods as we pedal through the peaceful wide avenues of Streeterville, the Gold Coast, Lakeview, Wrigleyville and Lincoln Park.
Our first stop is legendary deep-dish pizza joint Lou Malnati's, where we dig into the ultra-decadent pie said to have been invented in the city. Malnati's trademark buttercrust, a secret family recipe, is smothered in molten mozzarella cheese which, in turn, is covered with toppings such as sausage and spinach and, finally, a thick layer of Californian vine-ripened tomato sauce.
We're told most Chicagoans reserve deep-dish for special occasions, but it's not as OTT as we'd expected. The flaky crust is just thick enough to support its ample toppings without getting soggy and, the oozing cheese aside, is mostly fruit and vegetables (or so we tell ourselves).
Passing the brick and limestone original Playboy Mansion, which once bore a brass plate over the door saying Si Non Oscillas, Noli Tintinnare (Latin for 'If You Don't Swing, Don't Ring'), we cycle through streets lined with increasingly grand multi-storey homes to Molly's Cupcakes, winner of the Food Network's 2009 Cupcake Wars.
There's no sugar-coating the fact the dark chocolate dessert with buttermilk frosting I devour is decadent, but I still manage to make room for a Chicago-style hot dog at our next stop, retro fast-food joint Wrigleyville Dogs.
Often described as "dragged through the garden", the all-beef frankfurters in poppy seed buns are topped with yellow mustard, neon-green sweet pickle relish, tomato slices, white onion, dill pickle, pickled sport peppers and celery salt. If you want to avoid the locals' scorn, don't ask for ketchup. Barack Obama, who has a house in Chicago's Hyde Park, told the late Anthony Bourdain that it is "never" acceptable to put ketchup on a hot dog after the age of eight.
Like New York, Chicago is a city that never sleeps, with destination restaurants, rooftop bars and craft breweries full to bursting every night of the week. Dining and drinking out aside, there's plenty to keep you occupied after dark – the city boasts among the most vibrant music and theatre scenes in the US.
We attend a review at The Second City, a cult-status comedy club which helped launch the careers of Bill Murray, Stephen Colbert and Tina Fey. Entitled 'Don't Quit Your Daydream', it has the audience in near-constant hysterics with outrageous, occasionally heart-rending, vignettes on everything from closet homosexuality and contraception to menopause and Americans' unfathomable-to-outsiders habit of drinking milk with dinner.
Even with its endless paid-for entertainment options, some of my favourite activities in Chicago were free: strolling around the Gold Coast with its elegant Queen Anne, Romanesque, Tudor and Art Deco homes; joining joggers and dog walkers on the path that runs alongside the so-vast-you-could-be-forgiven-for-thinking-it's-an-ocean Lake Michigan; and admiring the public artwork and wildflowers in the ubiquitous parks (Chicago's motto, urbs in horto, means city in a garden).
Like New York, Chicago offers an intoxicating slice of big city American life – with ample opportunity to slow down and soak up some serenity.