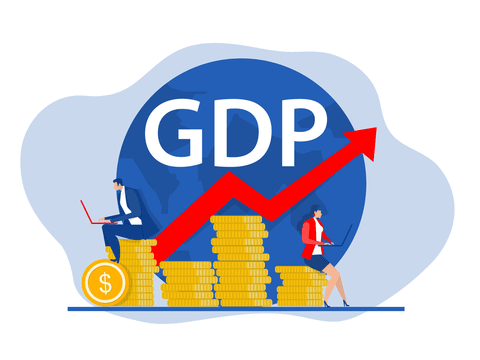 The country's gross domestic product (GDP) is likely to grow at 6 per cent in the 2024 fiscal amid a challenging global macroeconomic environment, Crisil Ratings said in a report.
This growth rate is lower than the Reserve Bank of India's forecast of 6.4 per cent growth and the Economic Survey's projection of 6.5 per cent.
The agency has attributed three reasons for this 100-basis point deceleration in the FY24 GDP estimate.
First, the slowing world economy due to aggressive rate hikes by major central banks will create downside risks to the country's growth. Domestic demand, therefore, will have to do the heavy lifting next fiscal.
Second, the full impact of rate hikes by the RBI will be visible in the next fiscal as monetary moves typically affect growth with a lag of 3-4 quarters.
And third, the tricky geopolitical situation implies that the country will continue to reckon with volatility in crude and commodity prices.
The report said that over the next five fiscal years the economy is expected to grow at 6.8 per cent annually, driven by capital and productivity increases.
While government policies will continue to push industrial capex and new-age opportunities, infrastructure spending will drive 12-16 per cent growth in overall capex next fiscal, the report said.
The agency said an uptick in the investment cycle is expected to improve credit growth in the wholesale vertical, driven by the central government's increasing thrust on infrastructure sectors and the private sector's capex revival in conventional sectors as well as new-age sectors through the PLI scheme. The wholesale credit is expected to grow
at 9-11 per cent in FY23-30 per cent.
The report sees consumer inflation moderating to 5 per cent in the next fiscal from 6.8 per cent this fiscal, owing to a high-base effect.
A good rabi harvest would help cool food inflation and a slowing economy to moderate core inflation, it said.
The agency said an analysis of 748 listed companies from fiscal 2011 onwards (excluding those from the oil and
gas, and banking, financial services and insurance sectors) showed that the revenue growth for India Inc is expected to touch double digits in fiscal 2024 despite a global slowdown and interest rate hikes.
The growth will be driven by a 10-12 per cent growth in revenue for the non-commodity sectors, even as commodity prices remain benign.