US President Joe Biden has called for a "pause" in the Israel-Hamas conflict.
The president was making a campaign speech in Minneapolis when a heckler urged him to call for a ceasefire.
"I think we need a pause," he replied, saying that it would allow for hostages to get out.
An unconfirmed number of American citizens left Gaza on Wednesday, as part of the first group to depart since war broke out. Another 400 are on a list to leave on Thursday.
The Okals, a suburban Massachusetts family, who were visiting relatives in Gaza when the conflict began, are among those on the list provided by Gaza's border authority.
Family friend Sammy Nabulsi told the BBC that Abood Okal, Wafaa Abouyzada and their one-year-old son, Yousef, have been living in "dire and dangerous" circumstances.
There are no Canadians on the list on Wednesday or on the list for Thursday. Canadian Foreign Minister Melanie Joly said there were 400 Canadian citizens, mostly dual nationals, trapped in Gaza.
Israel has been bombing Gaza since the 7 October Hamas attacks that killed 1,400 people and saw 239 people taken hostage.
The Hamas-run health ministry in Gaza says more than 8,700 people have been killed since Israel's retaliatory bombing began.
In Wednesday's speech, the president said a pause would "give time to get the prisoners out", he said.
White House officials later explained he had meant both getting hostages held by Hamas out and humanitarian aid in, the Associated Press reports.
The UN has urged a ceasefire to ease the dire humanitarian situation in Gaza, where 1.4 million people are estimated to have been displaced.
But the UK, Canada and EU have joined the US in stopping short of calling for ceasefire, saying it would favour Hamas, which has been designated a terrorist organisation by the US and several western governments.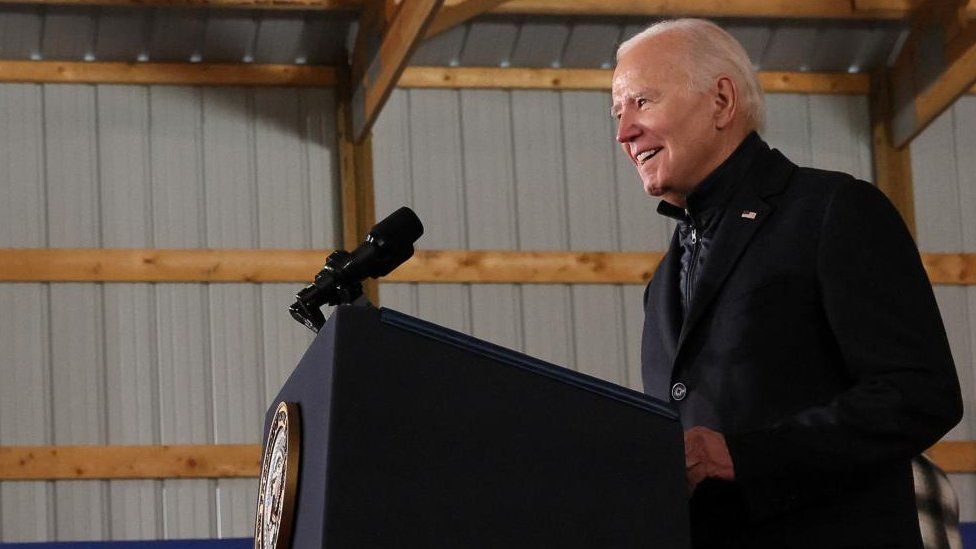 After the heckler was removed from Mr Biden's speech, the president said the war was a "complicated" issue and he recognised the emotions around it.
"This is incredibly complicated for the Israelis. It's incredibly complicated for the Muslim world as well… I supported a two-state solution; I have from the very beginning."