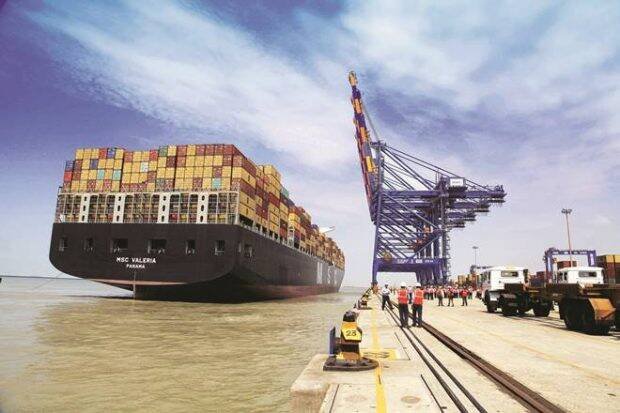 The shares of Adani Ports and Special Economic Zone (ASPEZ) is down by one per cent ahead of the company declaring its March quarter earnings.
The shares of the company was trading 1.01 per cent down at ₹730.00 on BSE from the day's high of ₹742.20. The scrip had settled at ₹737.45 on Monday. The company was commanding market capitalization of close to ₹1.6 lakh crore during the session.
The quarter saw foreign portfolio investors (FPI) increasing their holding in the Adani group firm to a multi-quarter high, with investments by Rajiv Jain-led GQG investment this past month. Jain's US-based global equity investment firm had in March purchased 88,600,000 equity shares or 4.1 per cent stake in Adani Ports at ₹596.20 apiece for ₹5,282 crore.
Adani Ports and Special Economic Zone (ASPEZ) missed the street's expectations in terms of profitability and EBITDA for the third quarter of FY23. While revenue put up a mixed show. This Adani Group-backed company posted a consolidated PAT of ₹1,315.54 crore which is attributable to its owners, declining by 16.05% YoY due to a higher forex mark-to-market loss. Its net profit was at ₹1,567.01 crore in the third quarter of FY22.
Most of Adani Group companies are trading flat on Tuesday. Adani Transmission share price fell over 3% on Tuesday's trade following its Q4FY23 earnings number. Adani Transmission shares began trading on the BSE at ₹832.35 per share, the same as the previous closing. During Q4FY23, the company's profit after tax increases by 70% to ₹389.5 crore, while revenue grew by a single digit.
Group's flagship firm Adani Enterprises was down by 0.53% to ₹2,520.25 on BSE, Adani Green was trading down by 0.75 at ₹970, Adani Power was down by 1.62% to ₹252.20, Adani Wilmar was down 2.40% at ₹437.05, Adani Total Gas was down by 3.29% to ₹704.80.
However, the shares of Adani Group rallied last week after Supreme Court panel's report in regard to the Group and Hindenburg case.