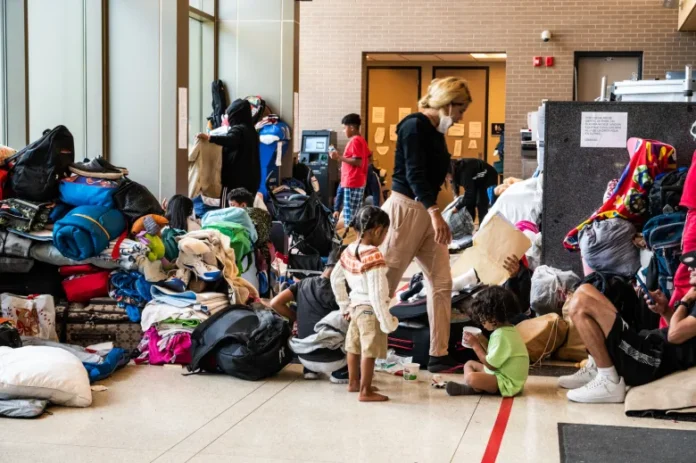 Migrants arriving in Chicago in the coming months will have limitations on how long they can stay in city shelters and buses that violate protocol for arrivals could face citations and more as part of the city's new plan for handling the migrant crisis heading into winter months.
Chicago Mayor Brandon Johnson released a lengthy plan for changes the city will be making as it navigates an ongoing migrant crisis, particularly heading into colder winter weather.
According to Johnson, the city will enter a new phase of its "new arrivals mission" as it aims to accelerate "resettlement efforts for new arrivals" amid a growing concern for what will happen to those living outside once the weather turns.
Among the changes in the new phase will be increased personnel at so-called landing zones, more regulations for "rogue busses" and a "limited stay policy" at city shelters.
"There are three anchors to this new phase in our plan: creating pathways to resettlement, community integration and reunification, creating jobs for Chicagoans in staffing the New Arrivals Mission, and building public infrastructure for the public good," Johnson said in a statement. "Above all, we are treating our new neighbors with compassion because it is the humane thing to do and because with support, they can become productive members of our communities, contributing to our economy, our culture and our society." 
According to the city, more than 10,000 new migrants have "successfully resettled" or been outmigrated so far. Of those, 2,700 have found long-term housing options while another 2,500 have been reunited with friends, families or sponsors.
The announcement comes one day after Gov. J.B. Pritzker announced that Illinois will funnel an additional $160 million to help migrants arriving in Chicago resettle, including $65 million to help the city launch "winterized" temporary shelter to avoid people sleeping outdoors in cold weather.
Chicago and other U.S. cities, including New York, have struggled to house asylum-seekers as winter weather hits and migrant populations continue to grow. State officials said roughly 700 new migrants arrive each week.
Illinois has already spent or committed more than $638 million to address the humanitarian asylum seeker crisis, officials said. The additional funds will come from the Illinois Department of Human Services. Chicago is in charge of housing new arrivals and has also spent hundreds of millions of dollars trying to accommodate them.
Pritzker said the state stepped in because the city has moved too slowly. Chicago has come under scrutiny from immigrant rights groups, local leaders and residents for its handling of the crisis, which has heavily relied on volunteers.
"The city's been operating its own methodology process. And it hasn't moved fast enough," Pritzker said at a news conference at a state building in Chicago. "We're stepping in here to try to help and accelerate this process."
Johnson, who took office in May, has called it an inherited problem and one the city is working to address.
Roughly 2,500 men, women and children are awaiting placement at city-run shelters and sleeping inside or outside police stations or at O'Hare International Airport, according to the city.
Here's a look at the changes:
How long will migrants be allowed to stay in city shelters?
Beginning Friday, all individuals and families newly entering a city shelter will be given a 60-day maximum stay.
"At the end of their 60-day period, those who are still in need of shelter must return to the landing zone to place a new shelter request," the city stated. "Under extenuating circumstances, including medical crisis or severe cold weather, individuals may be eligible for a temporary extension. Due to limited State resources, IDHS has determined that individuals entering shelter on or after 11/17/23 will not be eligible for housing resettlement supports at this time."
For those currently in shelters, the city plans to hand out similar 60-day notices in waves.
New arrivals who entered shelter in 2022 will receive a 60-day notice beginning Nov. 17. Approximately 50 people will receive notices in this group. 
 
New arrivals who entered shelter between Jan. 1and July 31 will begin receiving 60-day notices on Dec. 4. Approximately 3,000 people currently in shelter arrived in this timeframe.
  
New arrivals who entered shelter between July 31 and Nov. 16 will begin receiving 60-day notices on Feb. 1, 2024. Approximately 8,800 people currently in shelter arrived in this timeframe.
"This comprehensive approach allows asylum seekers the opportunity to access services and stable shelter while they attain long-term housing," the mayor's office said in a release. "By moving asylum seekers through the shelter system faster, there will be available space for families that are currently on the waitlist or are sleeping outside. The City will continue exploring all options to expand access to temporary shelter, which includes working with aldermen, the State of Illinois, and communities across the city in supporting efforts to move new arrivals indoors and off the floors of O'Hare Airport and police district stations."
What happens if people don't have a place to stay after their 60 days are up?
According to the city, "if other arrangements have not been made and the resident is not eligible for an extension at the end of their 60-day stay, they may return to the landing zone and request a new shelter placement."
According to the mayor's office, migrants will already in the city will continue to be eligible for rental assistance. Those who arrive on or after Nov. 17, however, will not be eligible for the service.
How can eligible migrants get rental assistance?
New arrivals who would like to apply for the state's Asylum Seeker Emergency Rental Assistance Program will need to have secured a lease in one of two ways:
Working with a Catholic Charities Resettlement Case Manager and submitting an ASERAP application with the help of a shelter HSS provider
Finding their housing, signing a lease on their own, and submitting their ASERAP application via the Fast Track option.
What other services are available?
New arrivals will still be eligible for several other resources, including public benefits from the Illinois Housing Department, assistance with enrollment in Chicago Public Schools and more. Details on those programs can be found here.
The city said it is also working to connect eligible arrivals with "temporary protected status" and employment authorization documents, along with assistance in their asylum cases.
In partnership with the state, Chicago will also be increasing personnel at landing zones to "help new arrivals reunite with their friends, family or verified sponsors."
"For many new arrivals, Chicago is not the final destination. By aiding new arrivals at the point of arrival, the city can save space in the shelter system for those individuals and families who plan to stay in Chicago," the mayor's office said.
What else is the city changing?
In addition to shelter stay limitations and increased staffing, Chicago announced plans to regulate "rogue buses," which it says "cause unnecessary logistical obstacles for intake and put the lives of new arrivals in danger – particularly as the temperatures drop."
"New regulatory tools will allow the city to cite and fine bus companies that disregard curfews, landing zone locations and loading/unloading protocols," the city said.